Welcome to my Blog and the Lucky Charm Blog Hop! If you've come from visiting

Kimi & Pamela
, you're in the right place. If you were just looking at my blog and want to play along with our blog hopping fun, you can start at the beginning at

Giselle
This blog hop is all about creating something for the lucky charm in your life..
It just so happens that St.Patrick's Day is also my birthday so I was excited to get to participate in this hop with some very talented artists.
I was so excited I created three separate projects.
Project one "I am so LUCKY"
The first is a simple easel card made with one sheet of patterned paper, some card stock and a little Stickles.
The paper I picked up at Micheal's and I just cut the front section at 5.5 x 5.5- I wanted the Lucky to be on the section that holds the easel up so I cut it off the sheet of paper at 3 x 5.5 then the shamrock was just hand cut off the paper- no machine required. I outlined the shamrock with a thin line of stardust stickles.
Project two "You are my Lucky Charm"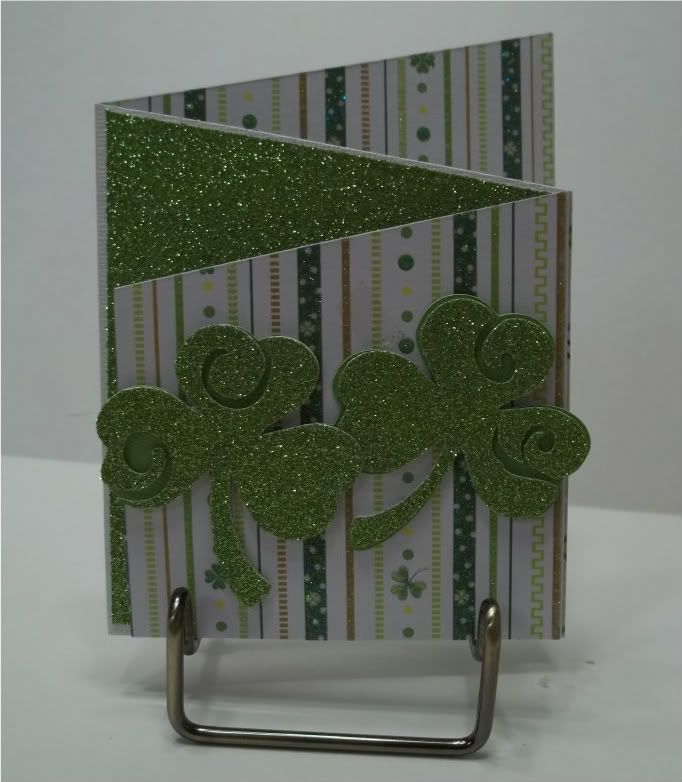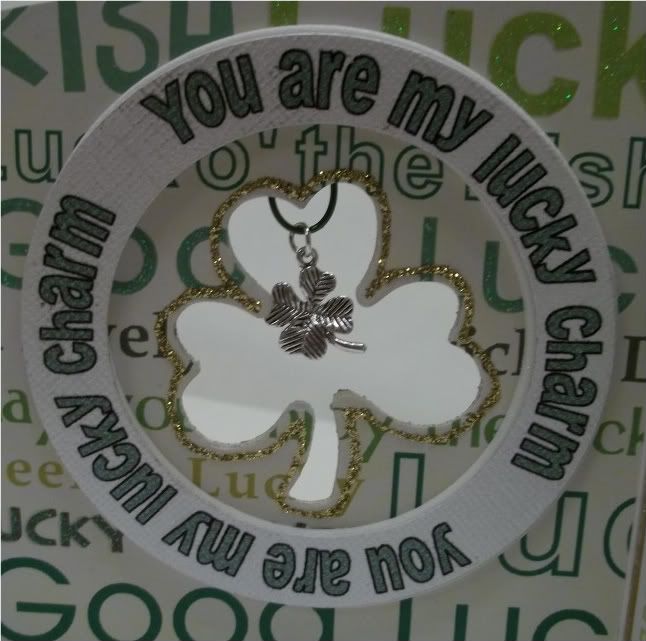 My second project is a tri-fold card. I love this card shape and you can see another sample of it on the Valentines Day card I made. It is a piece of card stock cut at 12x8.5 then cut at an angle- one side is 3inches the other is 5.5- if you cut it correctly you actually get the base for two cards. Then starting at the taller end score at 4.25 then 8.5. Cover each section with designer paper and add embellishments- in this case I cut out a shamrock from the center section using a Sizzix die and hung a shamrock charm in the opening. I thought it really fit with the Lucky Charm concept. I used Lacy Labels and Martha Stewart Seasonal Cakes for the St. Patrick day. I used Celebrate with flourish for the shamrocks on the front and my spellbinders circle dies for the sentiment in the circle around the open shamrock.
Third project- "U R the pot of gold"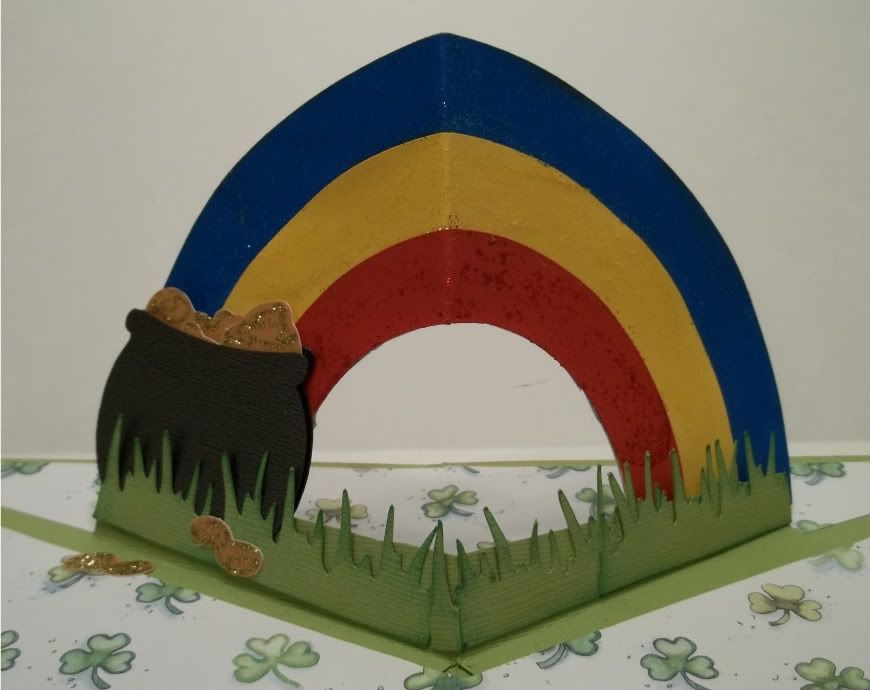 Last but not least is my card " You're the pot of gold at the end of my rainbow" For this card I reverted back to the old technique for making popups for scrapbooks- funny thing is I wish Provo Craft would add those pop-up bases to one of their cartridges Because I had to find my old file with the templates in it. I cut the rainbow from Hello Kitty Greetings, the pot of gold from Simple Charmed and the grass from MS Seasonal cake cartridge. It is a little lumpy but I liked how it turned out.
Now for those who read all the way through i have a blog candy give away- just leave a comment on this post and on Sunday evening I will select a winner using Random.org- the prize is a secret but I think you will be pleased.
I hope you enjoyed my projects. Thank you for visiting my blog. Your next stop is

JULIE

. Below is a list of all blog participants in case you get lost:
Giselle -
http://www.facebook.com/l/e17c6zr25t9QFxB5ot3SEu0FjEw/crossmyheartpapercrafts.blogspot.com/
Nadia -
http://www.facebook.com/l/e17c6T7sSKKiMGbVY4pKIrw7suA/nadiasbeautifulmess.blogspot.com/
Jennifer -
http://www.facebook.com/l/e17c6-F6BvtajPevIb6w4PZmWng/creativearmywife.blogspot.com/
Alina -
http://www.facebook.com/l/e17c6eJdBves123tPLZxNdDiQ3g/neverstopscrapping.blogspot.com/
Kim -
http://www.facebook.com/l/e17c62WQuPudckOXhxVZi3HNn1g/rickettscricuts.blogspot.com/
Yolonda -
http://www.facebook.com/l/e17c6YntJiwxrXpy9VTw2jQy23Q/www.craftyscentiments.blogspot.com/
Donna -
http://www.facebook.com/l/e17c60dIm3WPSG08ZbkFm-qXvkw/donnasdreamworks.blogspot.com/
Carol -
http://www.facebook.com/l/e17c67BPmVBaVCLbx_clFGxvc8w/caroleesscrappinspot.blogspot.com/
Rebecca -
http://www.facebook.com/l/e17c6WwV4XLay0bzNAzhOl0r6QA/www.creationswithbecka.blogspot.com/
Linda -
http://www.facebook.com/l/e17c6__ZiGZF4chZqLG6voUNdyw/www.fancyframework.com/
Amy -
http://www.facebook.com/l/e17c69T4_AXzMU1LerEJXuYXsgQ/amydesigns.blogspot.com/
Lisa -
http://www.facebook.com/l/e17c6v-wwDd-HSpFKN9-sl6GkBA/prettypaperprettyribbons.blogspot.com/
Sue-
http://www.facebook.com/l/e17c67kuj9Q1-bxZwYuEzPoU9yQ/ScrappinSuzy.blogspot.com/
Carrie -
http://www.facebook.com/l/e17c6Jsq4VPemu53MXebmmXmRZw/paperglitterstamps.blogspot.com/
Patricia -
http://www.facebook.com/l/e17c6zvgBAn95r9wIgAmF2AIzLw/creativediva98.blogspot.com/
Wendy -
http://www.facebook.com/l/e17c6tUbpIM7eyGjQ5ly7Lc8_iw/wendyscreativecraftingcorner.blogspot.com/
Kimi & Pamela -
http://www.facebook.com/l/e17c6fY6f3fAdAtfwQ1S-iyUTIw/lovebugcreations3.blogspot.com/
Darcy -
http://www.facebook.com/l/e17c6xsunTUjUHlomOBMVHYBRTw/dlmbscrapping-time2create.blogspot.com/
Julie -
http://www.facebook.com/l/e17c6BhO78GqFXANf1Dq2_qhACg/tidbitsnscraps.blogspot.com/
Shawnte -
http://www.facebook.com/l/e17c6LgZDXbVtzOoR-KD6omM-SA/shawnteparks.blogspot.com/
Amber -
http://www.facebook.com/l/e17c6qoyQHV3KobPB1hp67uKEww/www.pixiperfectcreations.blogspot.com/
Mellissa -
http://www.facebook.com/l/e17c6iOj5aO46WbZuYRgwkrV0pw/adventuresinheels.com